This year's AHLA Conference was held in Ho Chi Minh City in Vietnam, led by the local host of Thu Duc Hospital. A milestone for AHLA as this year was the 7th conference, and 3rd time in Vietnam. It's incredible to see how far the organization has grown in the Asian regions.

The conference theme was focused on "Health Literacy in Smart Universal Healthcare", emphasizing the importance of the growing technology and digital influences, attracting over 300 delegates from around the world. We saw a widespread of geographical range from New Zealand to bordering partners in Bhutan- a truly remarkable and global event.
This year included pre-conference workshops for delegates to apply learnings into their own settings. It was a huge success with large crowds in each session, excited to learn about organizational health literacy, policy and advocacy and digital health literacy.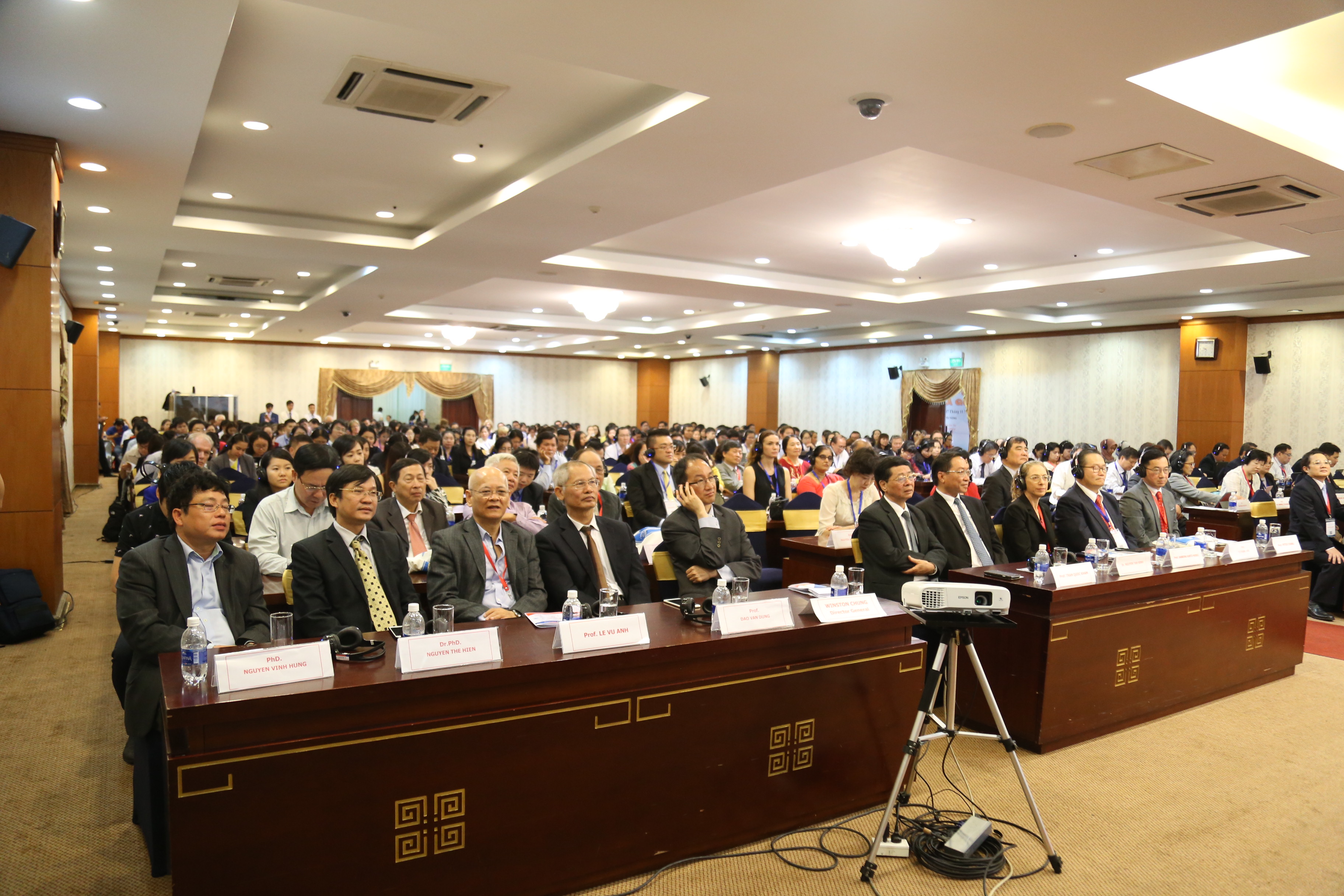 AHLA also held their annual General Assembly which concluded with several important news. The 8AHLA Conference will be organized by the Manipal Academy of Higher Education (MAHE) in India, but it will be postponed until 2021. The decision was made after the E-DA Healthcare Group | I-Shou University in Kaohsiung, Taiwan won the bid to host the first Global Health Literacy Summit through the International Health Literacy Association (IHLA). AHLA will designate a time to hold a general assembly during the summit. It is important to note that AHLA members will be hosting elections next year for Presidency. In other news, M-POHL was discussed by Deputy-Secretary General Ru-Yi Huang who partook in the last European meeting as an observer status. AHLA regions are considering learning more about the study protocol to measure population health literacy levels in Asia. For those interested, you may contact us through the website for more details.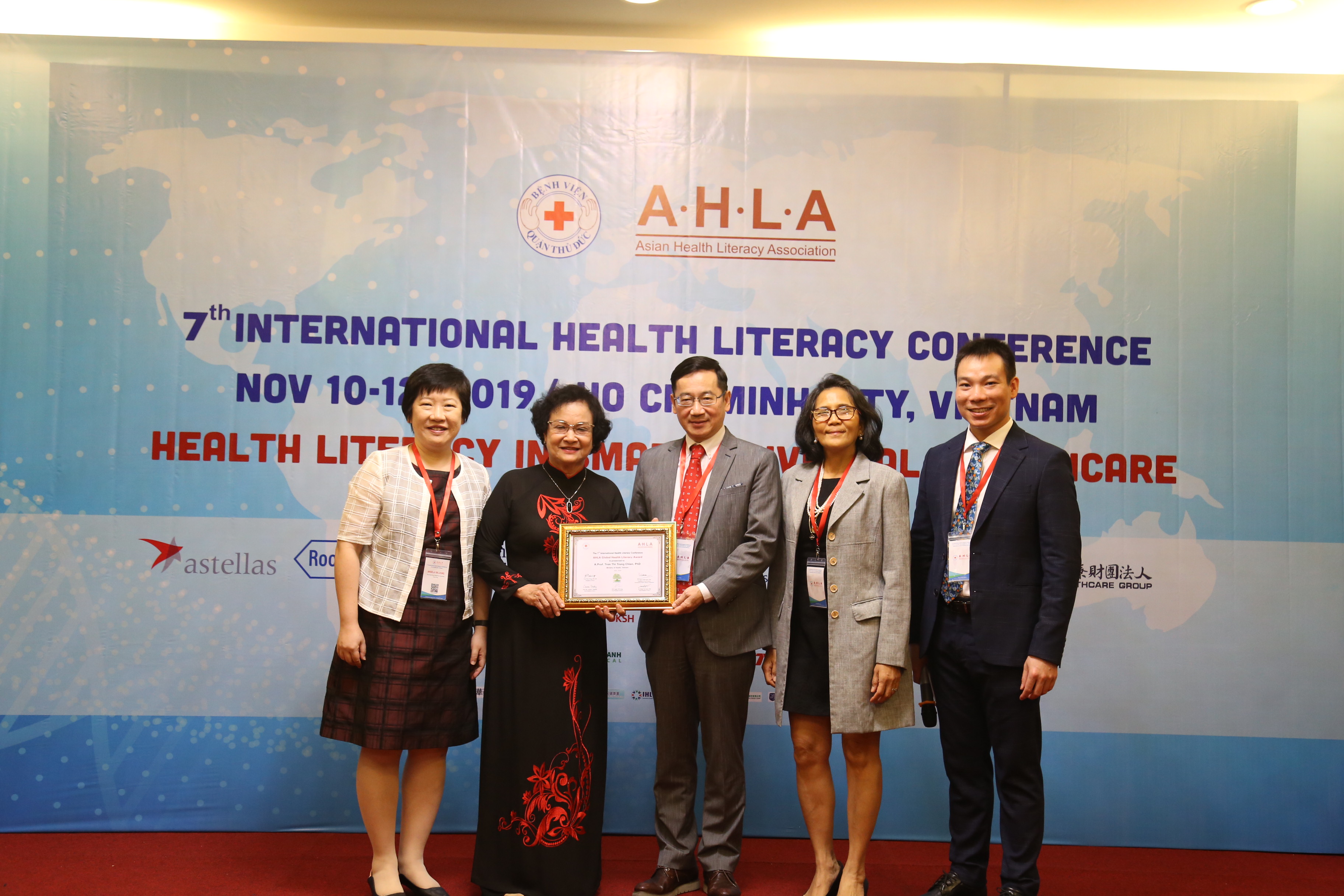 The 7AHLA was officially opened by the Deputy Minister of Health (Vietnam), Dr. Nguyen Truong Son who emphasized her own stories of clinical practice with vulnerable populations, and the importance of advancing health literacy. Other speakers included Dr. Nguyen Minh Quan (President of the 7th AHLA Conference), Prof. Peter Chang (President of AHLA), Dr. Kristine Sorensen (President of IHLA), Dr. Stephan Van De Brouke (VP of International Union for Health Promotion and Education), and Dr. Yuan-Kun Tu (Superintendent of E-DA Healthcare Group). The 7AHLA incorporated aspects of the conference theme in their cultural performances as well. Many delegates remarked about the engaging sessions, noting fruitful discussions and networking opportunities in the advancement of health literacy.



The opening ceremony also recognized AHLA achievements from country offices and young professionals: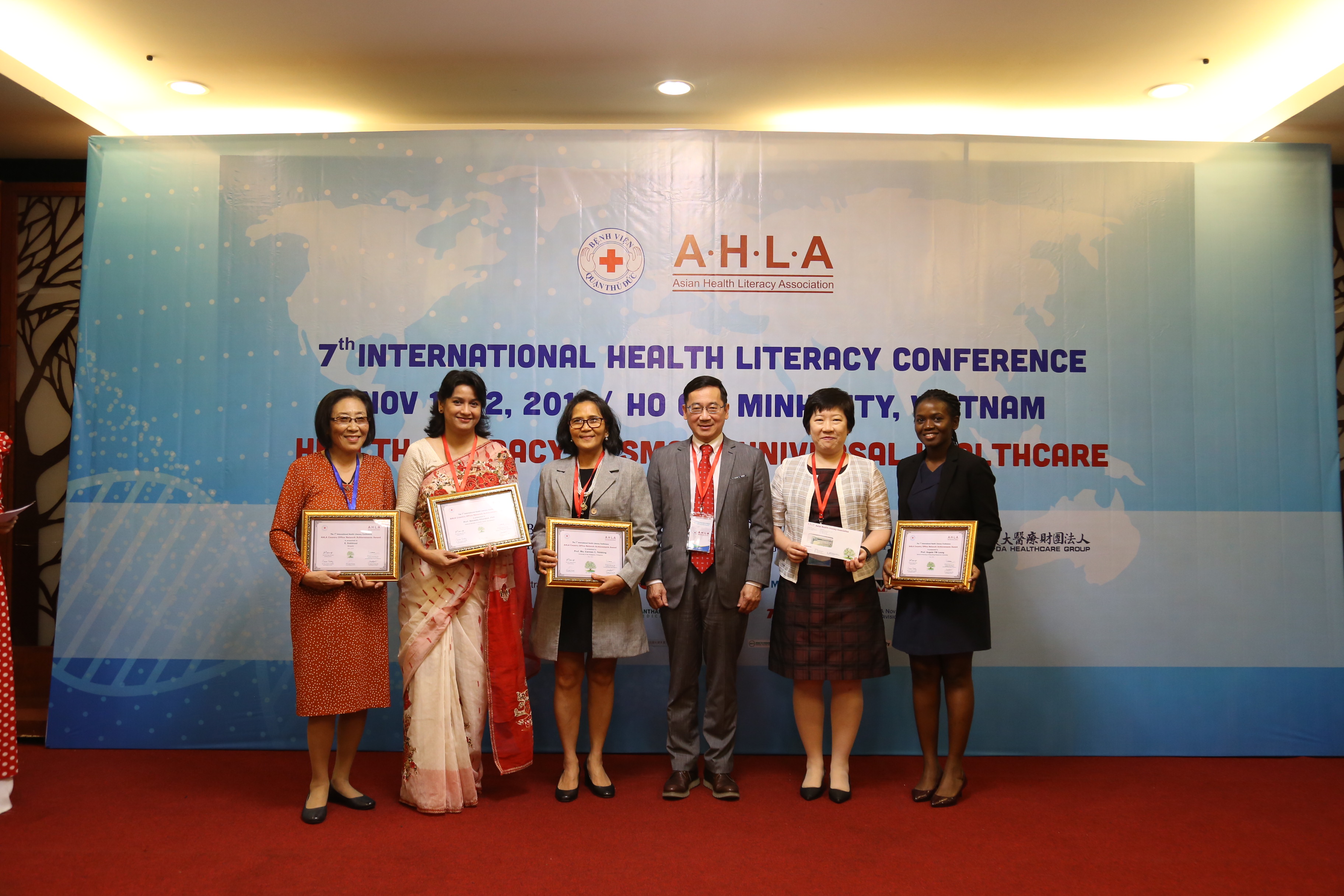 2019 AHLA Country Office Network Achievement Awards
Mongolia (New Public Health Association): Dulmasuren Samdan
Bangladesh (Somadder Welfare Foundation): Dr. Natasha Khurshid
Philippines (University of Philippines): Ma. Carmen C. Tolabing
Hong Kong (Hong Kong Polytechnic University): Dr. Angela Yeeman Leung & Adwoa Owusuaa Koduah

2019 Yufong International Health Literacy Award
Enny Rachmani (Universitas Dian Nuswantoro Semarang, Indonesia)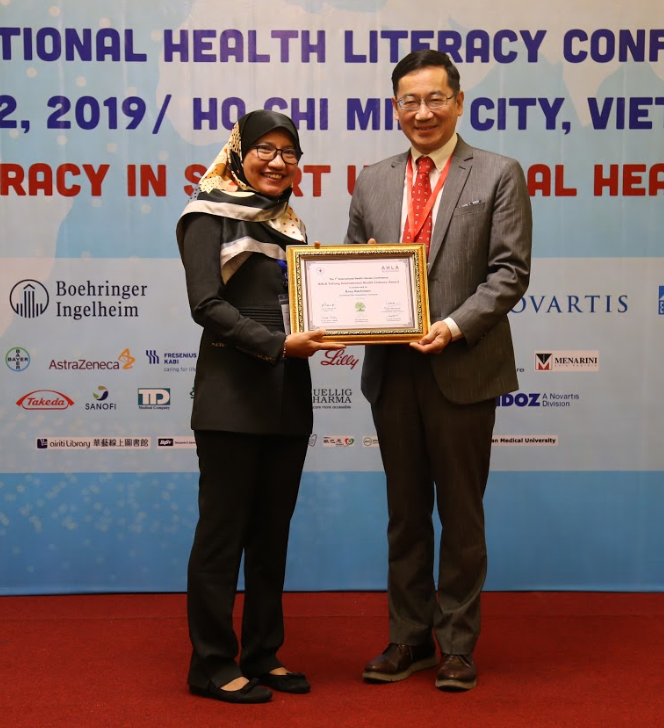 Thu Doc Hospital was a great social host through the city tours and the gala dinner. Many of the delegates were having a great time singing and learning about the Vietnamese culture through various dancing activities throughout the night. The environment was filled with lots of laughter and delicious food.
The second day at the 7AHLA was filled with sessions on Health Literacy in Health Promotion, Integrated Care in Hospitals & Publics, Health Literacy and Translational Research in MCH, and a focus on the Initiative on WHO M-POHL and Beyond. IHLA also held an open forum with E-DA Healthcare Group|I-Shou University to discuss the Global Health Literacy Summit 2020 and also open the floor for discussions on how to join IHLA and its interest groups. For more information on IHLA:
http://www.i-hla.org/
.
AHLA would also like to congratulate the winners of 7AHLA:
Best Oral:
Linh Huynh Ba Phuong (Lieu Clue District Medical Center, Vietnam)
Adwoa Owusuaa Koduah (Hong Kong Polytechnic University, Hong Kong)
Nguyen Ngoc Khanh (Ha Noi Medical University,Vietnam)
Best Poster:
Hoang Yen Nhi (Ha Noi Medical University, Vietnam)
Luong Thanh Bao Yen (Hui University of Medicine & Pharmacy, Vietnam)
Jerico H. Bajador (University of the Philippine, Philppine)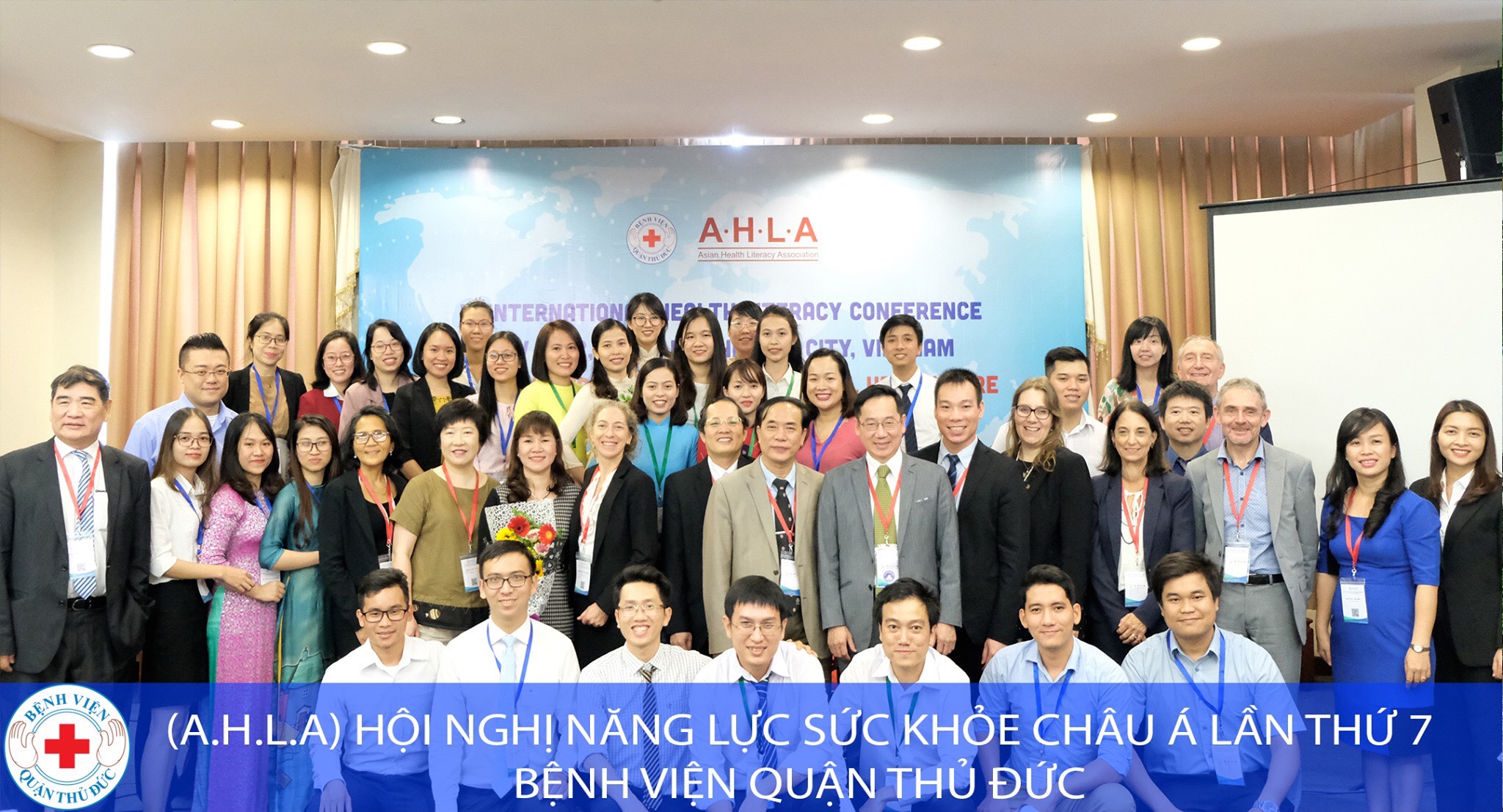 AHLA would like to thank the 7AHLA Secretariat team at Thu Duc Hospital for their hardwork and working closely with Dr. Duong Van Tuyen (Vice-President of AHLA) and Prof. Peter Chang (President of AHLA). AHLA would also like to thank all their sponsors for supporting the 7AHLA Conference. Although the closing ceremony was filled with sad smiles and warm hearts, we know that it will not be long until we meet again at the Global Health Literacy Summit in Oct. 26-28
th
, 2020 or at the 8AHLA in India, 2021!
(More photos can be found on the 7AHLA page)