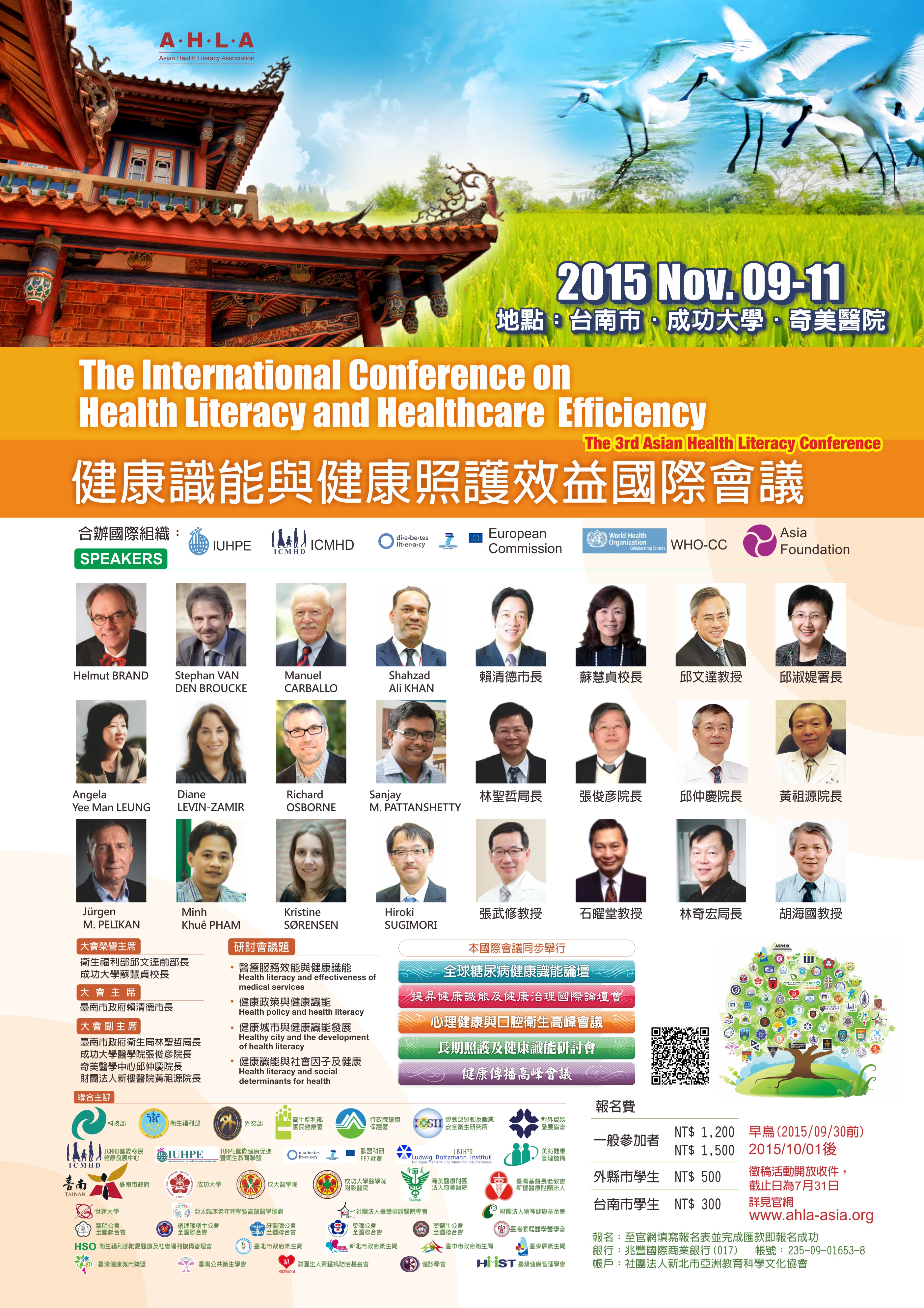 3rd International Conference on Health Literacy and Healthcare Efficiency
第三屆亞洲健康識能及健康照護效益國際研討會
November 9 – 11 2015 Tainan, Taiwan

Submissions due by July 31, 2015
Early Bird Registration ends on September 30, 2015

The AHLA sincerely invite you to join us for the 3rd International Conference on Health Literacy and Health Efficiency.
The event is held from November 9 to November 11 in Tainan, Taiwan and aims to bring together leading academic scientists, researchers and scholars to discuss better interventions in the field of health literacy.
Topics that will be discussed during the conference are;

1. Media campaign and social marketing on health literacy
2. Mental health and health literacy
3. Health literacy and effectiveness of medical services
4. Health policy and health literacy
5. Health literacy in the aging world
6. Psychological health and health literacy
7. Health literacy and social determinants for health

We are currently accepting abstracts (max. 500 words) for presentations at the Conference.
Please submit HERE

Please note:
All submitted papers must be in English.
All presenters will be expected to register as conference attendees and are eligible for the early bird discounted rate.
The registration fees for the conference are as follows:

Early Bird (before Sep. 30)
*Developed Country 200USD
*Developing Country 150 USD
*Low income Country 100 USD
Student 30 USD

Regular (after Sep. 30)
*Developed Country 300 USD
*Developing Country 200 USD
*Low income Country 120 USD
Student 50 USD

* as classified by the World Bank