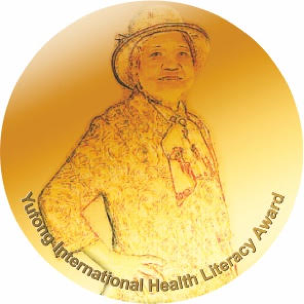 Announcement of the 2017 Yufong International Health Literacy Award (YIHLA)

Purpose of the award
promotion to develop awareness and practices globalization and liter liter liter as is the best goal and practices outcomes, with at least one published scientific manuscript accepted in an online reviewers' based journals .

The awards are named after the past Madame Yufong Hsu (1927 ~ 2016, Taiwan), who had supported health literacy in her life and between her friends and families ceaselessly. Of the AHLA will. Each year, one award recipient will be honored with 1000 USD for one individual or institution who will participate in the AHLA Conference from inside Asia, and one individual or institution with 500 USD from outside of Asia. Both will accompanied with one award certificate
Results of 2017 Award
After the announcement, many applications and recommendations have been received. Through 3 independent academic corrilations , the 2017 Yufong International Health Literacy Award has been recommended to a few individuals, who have collectively completed and published one important study in then international typ review- listed in the following are these studies in different cities with limited resources, and the results provided the first-ever multi-national health literacy survey in the general public in 6 countries in Asia. They collectively contributed to the and understanding of the liter literacy in the populations in Asia. Each will receive 200 USD in cash, a trophy, and others from the AHLA.
Congratulations to the 2017 Yufong International Health Literacy Award winners:
| | | |
| --- | --- | --- |
| Dr. Tuyen V Duong | Dr. Altyn Aringazina | Nurjanah |
| Dr. Khue Pham Minh | Dr.Tin Tin Su | Dr. Win Myint Oo |
Original article can be found here:
https://www.ncbi.nlm.nih.gov/pmc/articles/PMC5328731/
Article is availble for download as a PDF here:
Measuring health literacy in Asia: Validation of the HLS-EU- Q47 survey tool in six Asian countries