Health literacy in the context of behavioral and cultural insights
Thursday, 16 September 2021 11.00-12.30 (CEST)
Side event co-hosted by Austria, Portugal and the Russian Federation

WHO/Europe has launched a new flagship on behavioural and cultural insights. The aim is to enrich the evidence base for policy design – to make healthy behaviours possible, acceptable, convenient and attractive.
The side event will invite participants to discuss how this vision might come true, and how national health authorities can strengthen their work in this field. Using health literacy as the focus example, the co-hosting countries will present their field experience.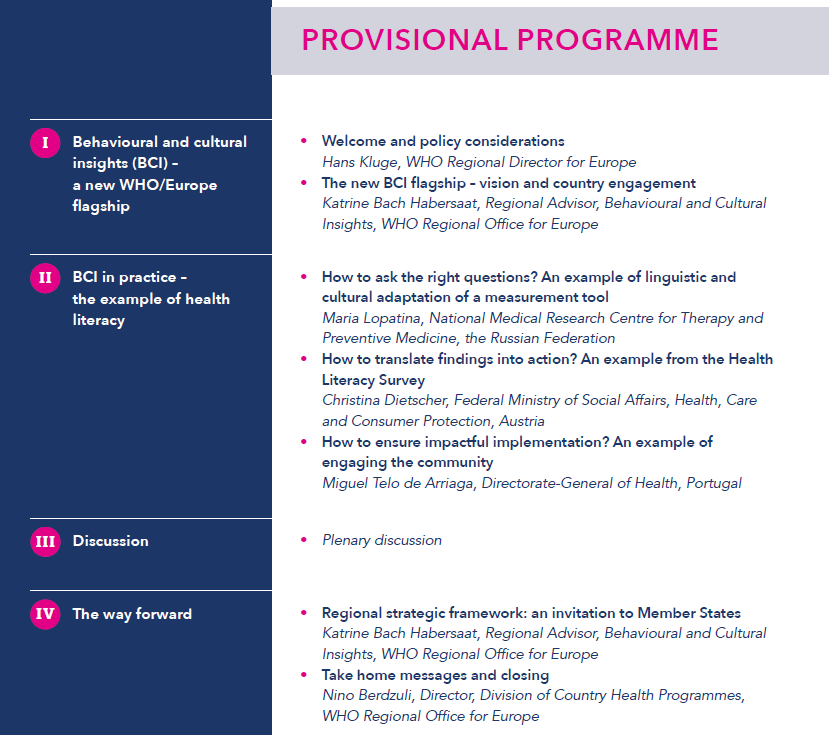 We look forward to a lively discussion and invite Member States, partners and WHO staff to be part of the conversation and share ideas, views and insights.
For queries, please contact us at: euinsights@who.int.



Register here!!!


https://forms.office.com/Pages/ResponsePage.aspx?id=t8AQ9iS9OUuBCz3CgK-1kPVwWw6hET9JkuouXH6k6RVUN1NWMlRGVjg0QUhXS0ZRMklNODZCNURTWS4u%20